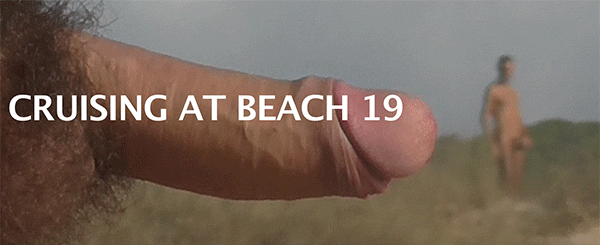 Problemas con el login? Clicar aqui para ayuda
CRUISING AT BEACH 19 de Antonio Da Silva
Waiting for summer cruising in the beach to start again…. soon!
Listo para la temporada de enganche de 2022!
A la espera que vuelvan los días de sol, mar y sexo en la playa …. pronto!
Después de tantas peticiones y comentarios positivos de la película anterior, PRAIA 19 (2014), y por el aumento de la afluencia de personas a visitar la playa del amor en los últimos años, esta película es un remake con una nueva representación poética de algunos de los rituales que ocurren allí.
BEACH 19/19 BEACH es la playa más popular para nudistas gay en Portugal, se encuentra a unos 30 kilómetros al sur del centro de Lisboa, es parte de una reserva natural y cuenta con una amplia zona para acoplamientos entre los hombres.
En esta película, el componente audiovisual habla por sí mismo. Tensión! Fervor! ¡Satisfacción con el sexo al aire libre! La tensión aumenta lentamente y seductora, el viento caliente sopla y el calor del verano se quema, la acción progresivamente se transforma en una sesión de sexo en grupo.
Es oficialmente una playa de nudismo, pero se puede optar entre quedarse desnudo o en traje de baño.
Es el lugar perfecto para tomar el sol, nadar, enganchar, hacer nuevos amigos y ver la puesta de sol. En el verano, está lleno de hombres de toda Europa y más allá. La mitad de ellos están completamente desnudos y bronceados por el sol. Puede encontrar hombres mayores, más jóvenes, «osos», musculosos, bien … muchos hombres para el gusto de todos. La mayor parte del acoplamiento ocurre al final de la tarde, principalmente en las dunas y en la vasta área de la mata detrás de la vía férrea. También hay enganche cuando se oscurece, pero generalmente es más frecuentado por los vecinos bisexuales de los alrededores en busca de diversión extraconjugal.
Si vas a esta playa, diviértete, protéjala y ayuda a mantener la playa y la reserva natural limpia. Evite dejar cualquier basura hacia atrás y no fume en la mata debido al riesgo de incendio.
La primavera también es una época muy buena de disfrutar de la playa que está prácticamente sin nadie y enganchar a la mata que está repleta de mimosas con flores amarillas.
Tienes 75 minutos más de contenido extra en CRUISING AT BEACH 19 EXTRAS.
Como en la película anterior BEACH 19 (2014), esta película también retrata el ritual de muchos hombres en esta playa de ir del mar a los arbustos para después regresar al mar.
La película original BEACH 19 (2014) se puede ver aquí.
Un film de Antonio Da Silva
Con: Alexandre, Andre, Anonymous Collaborators, Bruno Morais, Charles, Christopher, Colby, Daniel, Daniel Sanches, David, Francesco, Giacomo, Iva, Julian, Lino, Luca, Manuel, Mario, Miguel, Mark, Michael, Nicholas, Pedro, Raffaele Savignoni, Ruby y Vincent Dupré
Cámara: Antonio Da Silva, Daniel Sanches y Nuno Pinto
Montaje y Diseño de Sonido: Antonio Da Silva
Año: 2018
Duración: 17:20

Los participantes que tuvieron relaciones sexuales sin protección en esta película estaban tomando PrEP
http://www.whatisprep.org/what-is-prep-sp.html
SERVICIO ANÓNIMO, CONFIDENCIAL Y GRATUITO
Prueba rápida para el VIH dirigido a hombres que tienen sexo con hombres.
CONTACTO: +351 910693158
www.checkpointlx.com 

See more images here              See animated gifs here

Siegueme en: